Marketing on
Amazon [report]
This 67 pages report is based on research carried out by Anders Hjorth and Dan Saunders. It consisted of expert interviews of 7 experts and a deep survey including 64 questions to which over 20 advanced teams involved in Marketing on Amazon responded.
Subscribe to the newsletter to receive an alert when new reports are published.
In 2020, Marketing on Amazon is one of the most explosive areas to do business in. The rapidly changing user behaviour and the wealth of opportunities arising from the constantly changing rules of the game seems to give wings to some and cause terrible despair to others.
We are facing nothing less than a revolution of the customer relationship models enabled by internet technologies and strong innovation from Amazon, who are setting new standards for ecommerce.
Those of us who experienced the rise of Paid Search and the explosion of Google Adwords in the 90's, will remember how we felt like rebels trying to overthrow the ruling order. In our research for this project, and much to our surprise, we have detected a pattern similar to that of the rise of Paid Search. However, those former rebels are now part of the existing order and the rebels are agile Amazon marketers.
As such, we are in the middle of what we could call the Rise of Amazon Marketing. And the rebels are providing superior metrics, those of directly attributable conversions – as many a Finance Director will have told you: a bird in the hand is worth two on the roof.
Rebel spirits, those who are in the know and wish to stay on top, those who are planning to make a move in Amazon Marketing, this report is for you!
Anders Hjorth
Innovell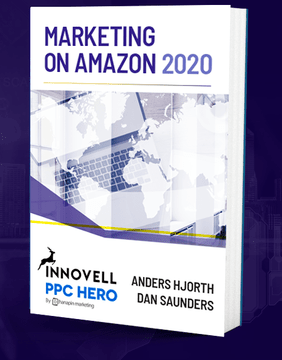 Amazon Marketing Report
€

250.00
I. Welcome to Amazonland – Industry dynamics
Rules of the Amazon game | Industry players and roles | Market size and evolution | Technology dimension | Knowledge acquisition and change
II. Amazon Mechanics – Building bricks
The marketing process on Amazon | How leading teams function | Attribution and metrics | How to rank on Amazon | Campaign management and tools
III. Winning Strategies
The Grind | Full process optimization | Compete and complement | Holistic takeover