Digital Marketing
in a VUCA World [report]
This research report is based on interviews of 7 experts and a deep survey including 87 questions to which 20 digital marketing award winners responded. Research carried out by Anders Hjorth and Lukas Adamec.
Subscribe to the newsletter to be alerted when new reports are published.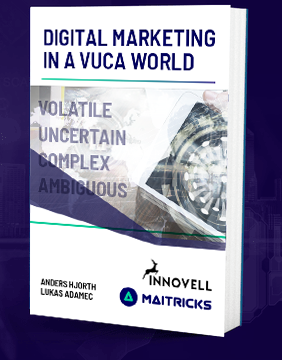 Digital Marketing in a VUCA World
€

250.00
Digital Marketing has been struck by COVID-19 and is also facing the massive arrival of AI and the end of cookies. The industry is one of the most dynamic business areas in our economy. Double digit growth is a norm, triple digit growth happens. Its equation is dual – there are the humans, and there are the machines. Their roles change every year. This report looks at what is in store for digital marketers in today's volatile, uncertain, complex and ambiguous world?
I. Data in a VUCA world
II. From agile to variable business units
III. Paid Search disruption from 2018 to 2020
IV. Pointers for Digital Marketing moving forward.