State of Retail Media
in Europe [report]
This research report is based on interviews of 11 experts representing 4 types of players in the retail media ecosystem.
Research carried out by Anders Hjorth and Marie Crolard.
Subscribe to the newsletter to be alerted when new reports are published.
The Emergence of Retail Media
For many years, retail marketing was about driving users to a retail outlet and then maximizing the order value. This model could even be applied to ecommerce: Generate traffic to your ecommerce website then incite users to buy your products once there. But in the world of multitasking, of mobility, of zapping and of marketplaces, the notion of ubiquity has changed. With the arrival of the digital space, the physical process of separating the marketing from the sale is crumbling.
You no longer decide at home what to buy, then physically move into the buying space. It all happens at once, the zero moment of truth as Google calls it, that moment when you start searching without necessarily having any established buying intent yet. Amazon was a bookstore, then a superstore and a retail outlet, then became a marketplace and is now the leading retail media followed by a host of local pure players, of omnichannel click-and-bricks players and retailers turning marketplaces providing differentiated and appealing alternatives.
Brands had become used to trade marketing. Now they are organising for retail media which appears as a massive marketing opportunity in 2022, whether they have an Amazon-fit or not.
Welcome to the world of retail media with a special focus on Europe in 2022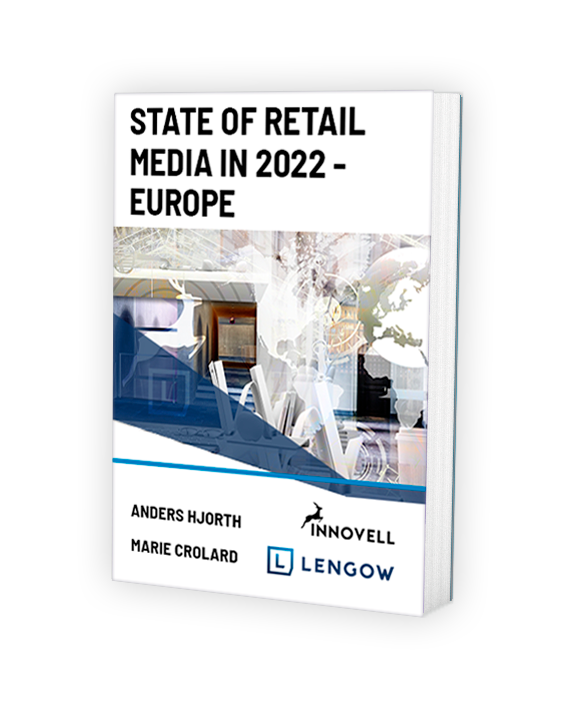 State of Retail Media in Europe
€

100.00
The Rise of Retail Media
The Retail Media Ecosystem in Europe
The Place for Brands in Retail Media
The Retail Media Future

Get the report for free via our report sponsor Lengow.
Register on their site to receive a discount code then return here to collect your free report. Click here!