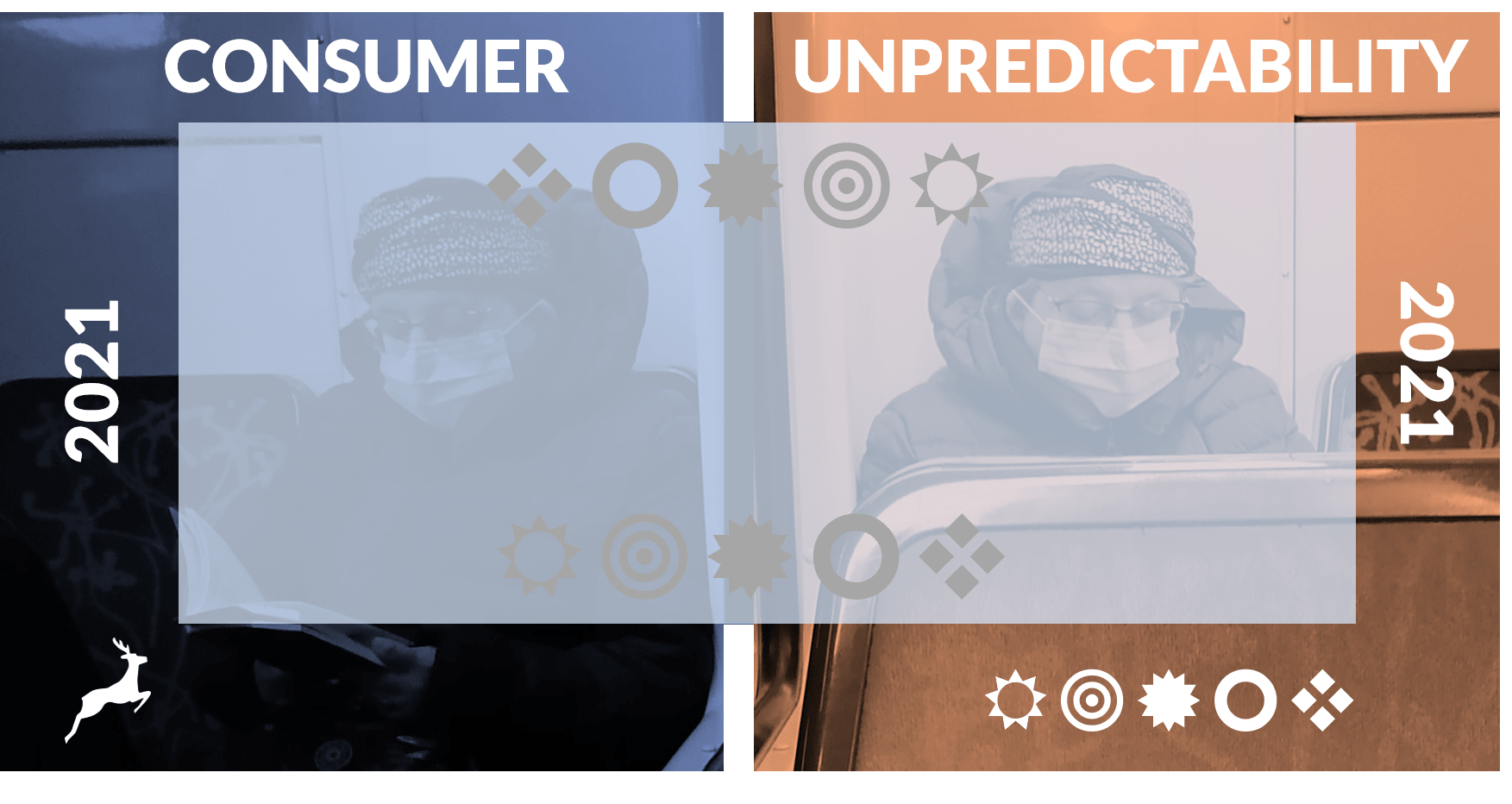 Have we reached the End of More? Or is it only the End of Cookies? Will Buy Nothing, Fly Shame, Reuse Recycle and the Planet, People, Profit paradigm be trendsetting for the 20ies?
The COVID19 pandemic marks a pivot for user behaviour. We are all hopeful that we are currently (spring 2021) seeing the end of what seems to have been an endless struggle, a war against an invisible enemy, a challenge to our social patterns. But what about behavioural patterns?
In digital marketing, "mobile" and "touch" have been major revolutions of user behaviour over the past 10 years, brought about thanks to technological change. But the pandemic struck them both down. Touching has become a contamination risk. Mobility was taken to a halt. We do not yet know for certain what fundamental changes will continue once the world returns to a new normal, but we can see a lot of indicators already. Let's explore.
How was marketing affected by the pandemic?
My good friend and co-author of the Amazon Marketing Report, Dan Saunders, kindly shared some before vs after screenshots from his Amazon homepage with me last year. Yeah, you guessed it: toilet paper, coffee, cleaning products were all over that homepage during the pandemic. Essentials. Once the first lockdown was over, it returned to some normality including his favourite tech devices. But things didn't return to pre-pandemic conditions on the high street. We still have not come to any normality, and our behaviours are changing.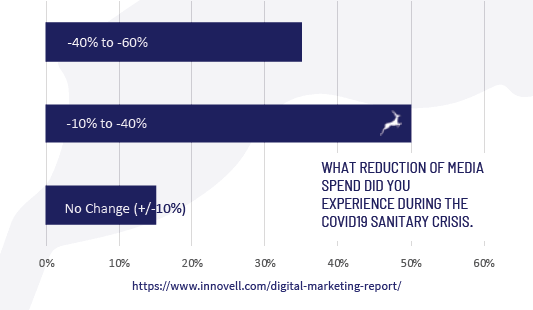 In digital marketing, the pandemic first struck budgets down. In the research for our most recent report, agencies responding indicated budget reductions of around 40%. When there is uncertainty, one of the first things to suffer is media spending. Advertising plunged. Agencies took a hit.
Next there was the great data disruption of 2020. For over a decade, the paradigm for digital advertising has been "machine learning applied to audience data". Artificial intelligence would use behavioural patterns to predict the best forms of advertising based on real-time user behaviour.
Machine learning is a powerful tool. Its weakness is that it is expecting data to be homogenous and truths to be universal. Nobody helped the machines learn there was a pandemic. With broken data, marketers had to resaddle campaigns and acquire new data. Stop, take a step back, rethink, redeploy.
In 2021, the first impact of the data disruption is past us, but marketers are facing many more challenges: the end of cookies, removing access to some of the behavioural data, the continuing rise of AI and the increasing opacity of its predictions: search terms reports, broader matching, imposed automated bidding. Marketers can no longer expect to see the raw data.
And remote work has additionally impacted their organisations. Digital marketing is extremely well suited to work from home and even to #workfromanywhere. Agencies sent their people home, but they remained connected to the virtual enterprise, and some may never return to an office.
For a more in-depth analysis of these trends, check out our 2020 Digital Marketing Report.
How is consumer behaviour changing?
Even more fascinating is consumer trends that emerged or expanded during the pandemic. Microsoft Advertising and the Suzy research initiative looked more deeply at those in the 2021 Consumer Trends report.
Some of these trends resonate strongly with me. They even make my wish to stop calling people "consumers" stronger. People are people, and successful marketers understand that and look for motives rather than impulsions. Enough of a terminology rant, let's look at some of the emerging user trends in 2021
The End of More. Our economies are built on a growth paradigm. Economic growth is the solution to poverty, unemployment and inequality. The pandemic created negative growth in most economies. Some are eagerly looking towards the return of growth whereas others consider it the end of a cycle. The end of more. Have I ever been more grateful to have a garden? The pandemic has not pushed be to have a bigger garden, but to appreciate what I have and feel priviledged because so many others are suffering.
Buy Nothing. Even more radical. Recycle, reuse, share, repurpose. Vinted is one of the strongest ecommerce platform if you feel you have to buy. Buy nothing is a sign of circular economies reducing waste and limiting new production. Preserve the plane, use less raw materials, less energy.
Local not global. It seems almost symptomatic that the Suez canal would be blocked and making global commerce suffer. 15 years ago, it was all about the "global consumer" desiring strawberry desert at any time of the year and drinking orange juice every morning. But global circulation of goods requires logistics which were put under dire pressure during the pandemic due to restrictions, sick people, distancing, precautions. We refound "local" and starting appreciating it. European economies have started "relocating" certain industries that were massively "delocating" 15 years ago. It is the end user who is driving this trend.
Sustainable travel. Fly shame pre-existed the pandemic, but how could anyone imagine a world without flying. Now we have seen that world, and whereas we may not be entirely comfortable with the perspective of a different setup, we can also see new models emerge. Travelling can be about the trip and not just the destination. It doesn't have to be fast. It is of course quite a trip to cross the pacific by boat rather than plane, but the experience of it, might be put at the front of the scene.
Nostalgia tripping. I don't know how many times has this crossed my mind over the past months. If only I could go back to New Zealand to revisit the most beautiful country in the world. Or if only I could do another road trip to Spain under the baking sun. Oh wow, would love to take my wife to Istanbul to experience the gate between East and West. Nostalgia is entering my mind, and I think this will be a trend when and if the world opens up again.
There are more trends to discover and their explanations in the Microsoft Advertising report mentioned below. The research was carried out in collaboration with Suzy. The ones above resonated with me and may not with others. Download the report to get a chance to discover the in-depth research on consumer trends in 2021.
The Many Challenges of Marketing in the 20's
Our own digital marketing report stresses the need for marketers to be proactive with change and embrace it but not with closed eyes. Keep an eye on the AI. The Microsoft report announces the new business paradigm they call "People, Planet and Profit".  Virtual enterprise is rising, social distancing has entered our consciousness, user motivations are changing, the "consumer" is mutation. And in all of that, we are waiting for the pandemic to phase out and the new normal to crystalize. Marketing in the 20's is quite something.
Read more about how the digital marketing landscape is changing in a volatile, uncertain, complex and ambiguous world in the Innovell digital marketing report: Digital Marketing in a VUCA World. 
Download the 2021 Consumer Trends Report from Microsoft Advertising and Suzy here.