It is Time to Emerge from Plato's Cave
I wonder if people today know the film Matrix better than Plato's allegory of the cave. They illustrate the same concept of a superficial reality projected onto us, from which only the fearless can escape. This is the image that we used to illustrate the state of digital marketing in 2020. Digital marketers staring at a wall onto which digital marketing providers are projecting images of end-users. Those images are not nearly as perfect as in our illustration. They are expressed as data sets, as interest categories, as intent.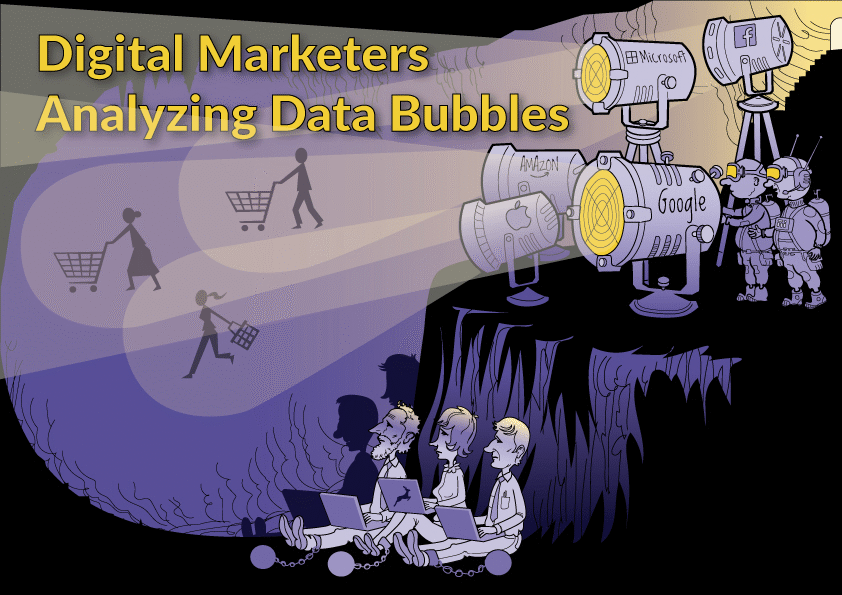 For how long will we be calling it digital marketing, I wonder? We could already rebaptise it to Data marketing, for that is all it is about. Using data, to direct and optimize a campaigns executed by algorithms onto digital media. A few months back, Google removed more of the transparency in their data. They are of course far behind Facebook in that game: "No tracking allowed, here is the data you need".
It made me think about the troubled waters data marketers are navigating in. We know that a lot of the digital activity that goes on behind the scenes is automated bot traffic. We know that we cannot track users from one marketing channel to the other, unless we are inside one of the big media players's universe. We know that some users have installed ad blockers, that some are using incognito browsing windows, and in the future, third-party cookies will completely disappear. It is a wonder data marketers have any insight into the data at all.
Thinking like Plato and Neo: Does the data really provide insights? 
Nothing like a little philosophical step back to look at the bigger picture. The big worrying characteristic of the big marketing providers is that they are dictating the rules of the game, while they are providing the data on the basis of which you make decisions. By definition, the arbitrage is carried out by algorithms, not engineers fiddling with your data. This provides us with no guarantee whatsoever, that the data is free of bias. A very simple example from my days running a digital media agency: Google Analytics (the abiter) by default attributes conversions to paid search (the commercial offering) more favourably than organic (free) traffic.
Digital marketers are not dealing with raw data most of the time. It is interpreted data, and the interpretation has commercial intent. This is why the most important direction for digital marketers in these challenging times is to build proprietary data. If the entire user journey takes place within Amazon, or within the Google universe, or withing Facebook, you should be aware that you are not seeing raw data, but interpreted data. Building proprietary data means getting users to your own website, it means capturing tangible user data like email addresses, phone numbers and names, rather than relying on retargeting lists and intent audiences.
Read the full article on PPC Hero here:  https://www.ppchero.com/digital-marketing-in-a-vuca-world-is-it-time-to-emerge-from-platos-cave/