Google Marketing Live #googlemarketinglive #behindtheads is an annual Google Conference for Advertisers and Agencies where Google announce new products and functionalities.
In 2018, the overwhelming news was the rebranding of the platform to Google Ads. It used to be Google  Adwords because of the origin in Search Marketing and the basic functionality of bidding on keywords. Google Ads includes Adwords but also Display and Youtube ads. It further integrates into a wider Google Marketing platform that ties Ad products together with Analytics products. In the process, the DoubleClick name also disappears.
The dialogue has changed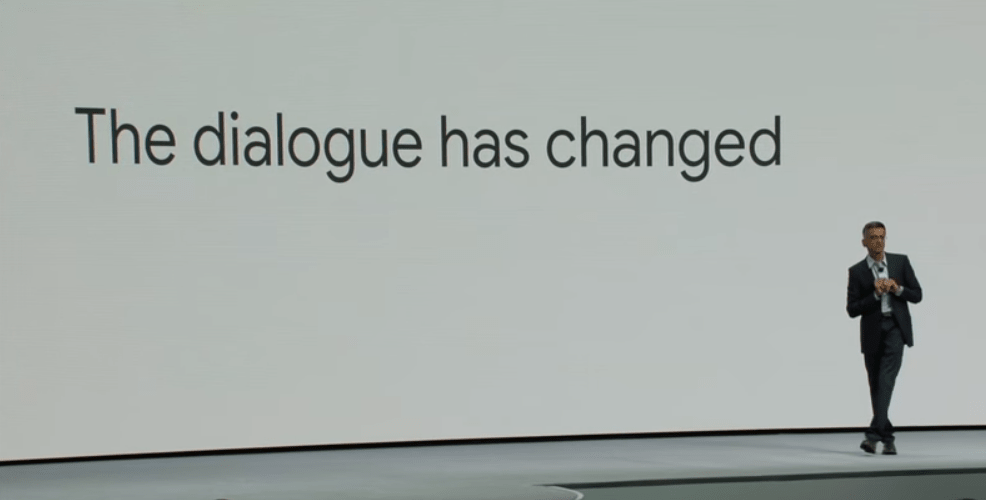 Sridhar Ramaswamy introduced the conference stating Google's attachment to some fundamental values: Ads should be Valuable, Transparent and Trustworthy. He also insisted on the changing user behaviour. The dialogue has changed and users are rejecting ads that don't provide meaningful content and experience. Google therefore focus on speeding up websites and on improving the feedback loop, allowing users to mute ads.
Performance on Youtube, Responsive ads and Cross-device reporting
Google are happily announcing that Youtube can now provide campaigns across the entire user journey. There is Trueview for Reach and now Trueview for Action which is a persistent ad that can sit on a video all the way through – and even beyond. A case study showed great results but I guess you would automatically get some people reacting if the ad sits there permanently while you are watching the video. I can't really help feeling that Youtube is not for performance and that it would be more clever to thing about a user journey beyond the one channel.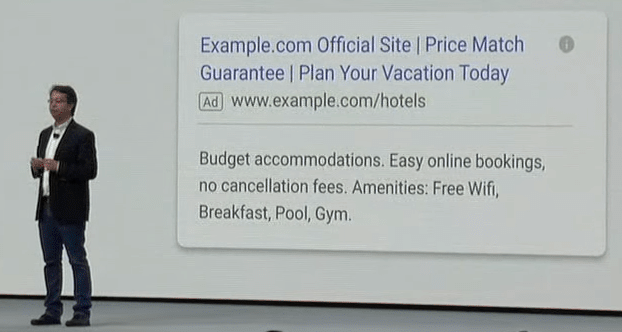 Responsive ads are already in beta and are both different in style and in behaviour from traditional ads which had already been expanded last year.
A responsive ad is composed of 2 headlines of 30 characters and 3 description lines of 90 characters. You can enter a number of variations and Google will automatically optimize the ad to the best combination of headline and description to fit with each ad placement. It sounds like automatic multivariate testing and is again based on machine learning and made in attempt to simplify the work you do. Google staff are recommending that you be "creative" and enter all the headlines you can imagine – you can enter 15 for an ad. It feels black-box'ish and it will be interesting to see how this performs.
On the measurement side of things, Google announced cross-device reporting and also remarketing as a new functionality. It has been a long way coming and will be useful to better understand the user journey and build campaigns accordingly.
When they say "smart" and "maximize" it means Machine Learning
Google have a number of recent products called Smart this and Smart that. It looks like this is the Google jargon for machine learning-based. In the keynote there were some references back to various Smart bidding features that already exist but also the new "Smart shopping campaign" and small-business oriented "Smart campaigns" that supposedly set up in minutes and launch across the "Google Ads" platform: search, display, shopping,
When the word "maximize" is used, it is to describe an optimization algorithm.
Integrate or Simplify 
With the number of channels Google now cover and the amount of new functionality they have added, it is great to see the strong focus on integration from Google. The demo of the Integration Center on the Google Marketing Platform was very compelling. The idea of having designers, marketers and planners on the same collaborative platform with shared resources and the possibility to compose and preview ads and campaigns is very compelling and the right way to go.
Does this not, however, go a bit against the trend for simplification? Digital Marketing is not simple and I think the majority of agencies and advertisers are not convinced that we can just "trust the AI" with the money to get the best results as some of the functionalities suggest (Smart campaigns). But for sure, the role of the Digital Marketer continues to evolve and perhaps the "marketing" aspect of the role is becoming more dominant as the "technical" side of things gets simpler. Marketers will certainly continue to adopt and test useful functionalities that drive better results or create simpler process.
____________________________________________________________________
The keynote can be found here: https://www.youtube.com/watch?v=MmfaZV96x7A
____________________________________________________________________
To be alerted to my publications, follow me on twitter: @soanders