SMX London 2018 was a great edition. I am just back from the event and still have my head full of all the things we discussed on the closing panel I was part of.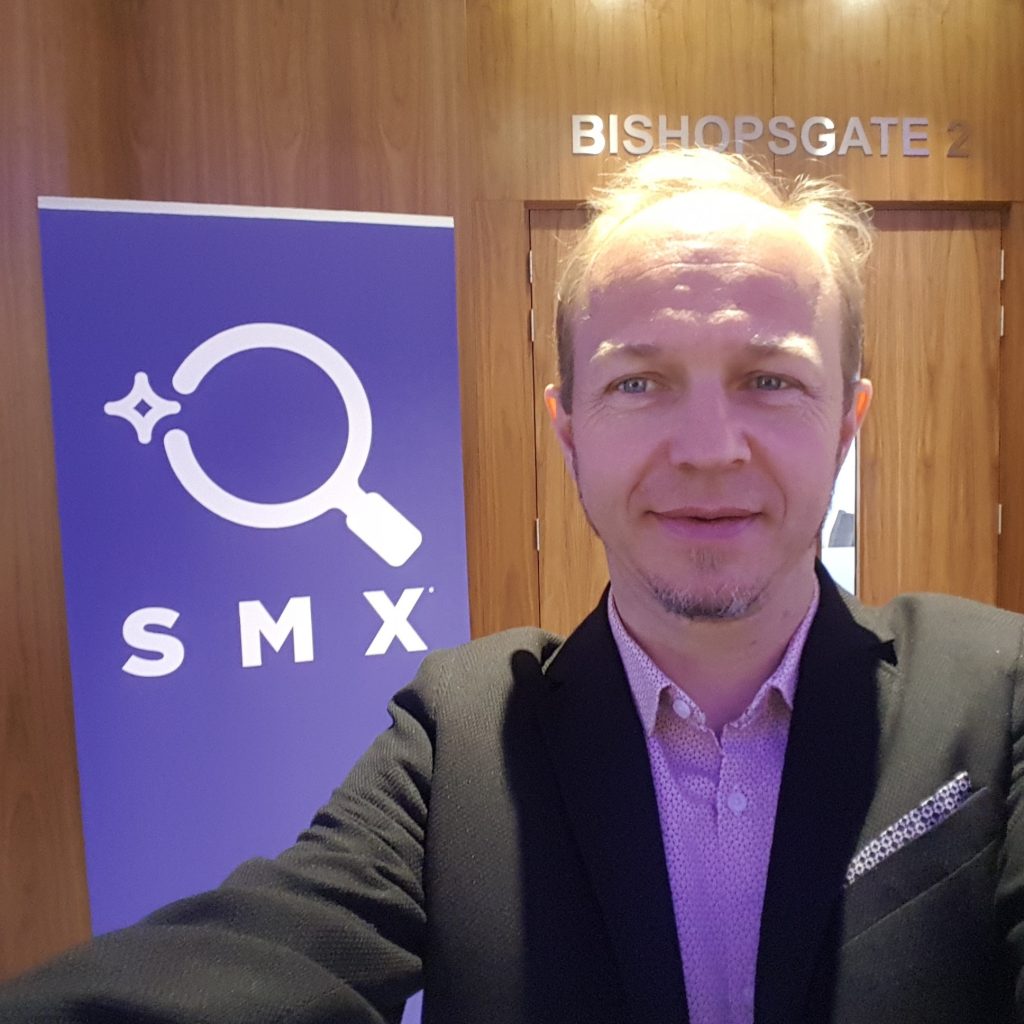 The main topics were of course Privacy and GDPR on one hand and then Automation and Artificial Intelligence on the other. In the conference programme, various topics touched on AI: Automation for PPC and Voice Search being the most prominent ones. But GDPR was discussed in every break, over every drink and in most of the questions asked during the individual sessions.
The conference addressed some really interesting questions this year:
Should you use Ranking factor studies to guide the way you do SEO or simply use for inspiration?
What are your options when organic reach in Facebook and other social media is dropping?
Is AMP for mobile rendering or or just a temporary patch to a problem of speed?
Should we be worried as marketers with the arrival of AI in the optimization interfaces?
Overall, there was a lot of discussion of Speed. Speed as a ranking factor – not time to first byte but time to full page render as Marcela de Vivo from Semrush stressed. There were session on AMP which are in essence a way to speed up pages.
At the beginning of the year, my prediction was that AI would be big but that it would be more of a hype effect than a reality for the Digital Marketer this year. Well, it looks like AI is more prominent than that. Frederick Valleys from Optymzr reminded us that the Quality score was the first Machine learning functionality in Adwords and has been around since the beginning of Paid Search. And we have seen new ML driven functionalities enter the scene little by little. The Smart bidding options (Target PPC, Target ROAS, Maximize Clicks and Maximise conversions) are all part of this, as Brad Geddes reminded us. And in a separate session, Ann Stanley showed an example of smart bidding for shopping campaigns involving remarketing: Optimize by Goals which you can find here.
What we won't see is perhaps the shift from Machine Learning (ML) into Artificial Intelligence (AI) for these functionalities.
Voice search is another area where Artificial Intelligence has a big role to play. It was covered in the keynote by Beshad Bezhadi but also at a more concete level in a very popular session by Pete Campbell:
As is often the case, I met some wonderful people in the networking around the event – and also had some of the more interesting discussions off the record.
Changes in the Google algorithm favouring niche approaches
The need to constantly renew ourselves in this industry of constant change
The need of business in other industries to learn from our experience as they will soon be facing the same challenges of constant change that we have for 20 years due to major technological, organisation and behavioural disruption across all business sectors.
Soon it will be time for SMX Paris – the programme is very different and there is no real speaker overlap so it will be another exciting conference on Search, Social, Analytics and Digital marketing overall.