(you might be interested in a newer take on Paid Search Strategy: Paid Search Strategies in 2021)
It used to be quite simple. When taking over a Paid Search campaign you would automatically consider that whoever had managed it before was a jerk so you would rebuild the campaign from scratch: new keywords – or rather more keywords, new account structure, fresh ads and then optimize, optimize, optimize. You would add in a "Bid Strategy" which was never really something well-defined but it let you use the magical word "strategy".
So many things have changed in the way paid search is structured, in what is possible to do and in the integration with other channels. And with the arrival of retargeting, of audience targeting and of a host of dynamic variables that can be used to model a campaign, we can really talk about search strategy in 2019.
In our research for the Search Trends report, we identified a number of these strategies and in the following we will look at 2 families of strategies that have arisen. Today's more ambitious strategies are either measurement-driven or insights-driven and require a deep understanding of the user journey, which leading teams consider essential and for which 52% of them now use "personas", a segmentation technique whereby you can provide actionable input for the more complex types of campaigns.
Measurement-driven strategies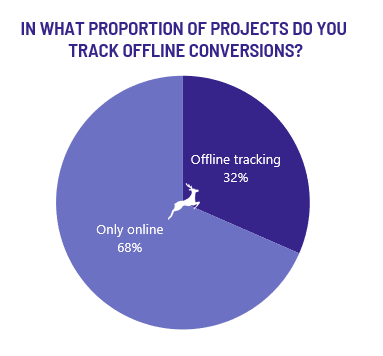 Measurement-driven strategies are based on what represented the original reason for paid-search success: reliable tracking of sales originating from digital advertising. Amazon are now entering the digital ads scene and already represent 10% of Google Ads, expected to double to 20%. Within Google, meanwhile, there has been a gradual budget shift from search ad
s to shopping ads. This gives birth to a winning search and shopping strategy. The other metrics-driven strategy we observe is the drive-to-store strategy, which addresses the complex issue of using digital advertising to drive users to a physical point of sales. The main enabler for this strategy is the store-visits metric, allowing for increasingly reliable measurement of visitor flows in a physical location. Leading paid-search teams selectively embrace offline activity: 32% of our sample systematically use offline tracking, and for 14% offline is part of their offering. We predict that this will rise in the future.
Insights-driven strategies
The other group of successful strategies is insights-driven. They require in-depth user research to understand the user journey, and make use of personas, which they map against it. They then use several campaign steps, often involving different channels. They are heavily reliant on measurement as they target a large span of the user journey and collect more measurement points; they need a model to attribute value correctly to the various channels and providers involved – in other words, a reliable attribution model. The leading teams use advanced attribution models in their projects and have moved away from the much-maligned last-click attribution model.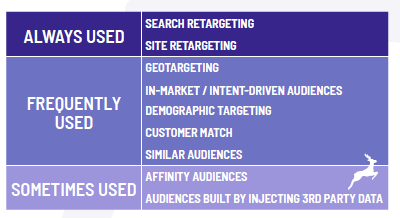 The audience-led strategy has several phases and uses audience building for later conversion to fit with end-user decision cycles. Retargeting, audience sharing and negative audiences are the mechanisms used to keep the target on the user, improve budget and maintain brand-image consistency. We observed full adoption of simpler audience-targeting mechanisms, and we noted that adoption of the more recent machine-learning-based "in-market audiences" by leading paid search teams, at 77%, is as high as traditional geographic targeting as shown in the illustration.
The data-driven strategy differs from the audience-led in that it focuses more on user context and external factors than on the user state. As such, it injects external data into campaigns in order to improve campaign effectiveness. Data-driven campaigns are technically complex and use a variety of data sources: finance, weather, news, events, etc. The only limit to what data can be actioned is the insight and creativity of those actioning it, and these strategies are almost impossible for competitors to detect and counter.
The common characteristic of the four paid search strategies mentioned above is their potential to drive double-digit performance improvement over existing strategies. They are also emerging strategies that will allow for continued success in 2019 and beyond.
This post is based on an extract from the #searchstrategyreport found on https://www.innovell.com/search-strategies-report/