Just home from SMX London, I have realised just how important some of the take-aways were. The biggest one for me was the session about Entity Search. A session moderated by Danny Sullivan with David Amerland and Justin Briggs speaking.
Before reading any further, do this :
copy the title of this article
use the title as a search query in Google*
Your result page will show the answer to the natural language query I used as a title for this article.
* since the article was published and the title was republished on inbound.org, the search results page has changed. Before indexation, Google would show an article by Danny Sullivan about Hummingbird and Entity Search. Now it is this article which comes out top, at least if the author is in your circles on G+
From Recovery to Discovery
For those in search marketing, you will realise that this is new. It seems like search engines have always been based on keywords and served a purpose of navigational recovery: the search result will show me results corresponding to what is known but hidden somewhere (for example in my mind, in my bookmarks)
With a search results page adding something not outspoken to my query, I no longer need to use the concept of keywords, I can move on to a natural language querying and the function of the Search engine will allow for a function of Discovery. Finding something I didn't know of.
The Art of Not using Keywords
I find this inspiring and started playing around with some queries. Justin Briggs gave me the first couple:
These queries are all about films because this semantic territory is very structured with entities and properties easy to define but I will come with examples from an other territory further ahead.
From Keywords to Entities
Where the Search paradigm used to be based on Keywords, their pro-eminence in the pages and in the backlinks, we seem to have passed beyond this in. The queries do not name the answer we are looking for whereas the search results page does. We are perhaps seeing the result for the « Entity » that has been identified as the answer to the query.
So what is Entity Search?
On the SMX, David Amerland made a reference to the US Patent number 8538984, which supposedly is the foundation for this Google update. The Patent can be found here as well: http://www.patentbuddy.com/Patent/8538984
As opposed to other recent animal-named Google algorithm updates, Panda and Penguin which are considered as add-ons, the Hummingbird is a complete rewrite.
What the Hummingbird update does is to move away from the concept of keywords and into the underlying entities. A search query is analysed in order to understand the meaning behind the keywords within and the search results are based on the presence of entities.
We see this effect more clearly on natural language searches using more words in the query. It also likely works more effectively in structured semantic territories. Justin Briggs pointed to Freebase (a Google acquisition) as a likely source of structure to the entities.
Exploring Entities
Let's have a look into Freebase and the structure of Entities. It is almost noon so I was starting to think about food. Here is a view of the Entity « Dish » in Freebase :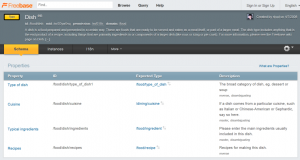 Type of dish: starter, dessert, …
Cuisine: French, Indian, …
Ingredients: Eggs, Ham, …
Recipes
So, Dish is an Entity under Food and it has the properties: Type, Cuisine, Ingredients and Recipes.
This inspired me to test this query :
« how to prepare that mexican starter with fish, shrimps and lime juice »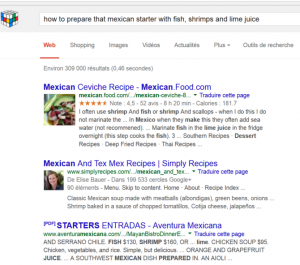 The result on top comes out as a Mexican Recipe for Ceviche. Out of the 12 word query only one of the words appear in the title and I see entity attributes highlighted in the snippet : shrimp, fish, lime, dessert but also, disappointingly, the word « make » which is by no means neither a keyword, nor an entity property.
The Future of Search?
With a number of changes having occured within Search Marketing and especially SEO during the past couple of years, I hadn't really noticed this under-the-hood change. And I don't think this will change Search Marketing instantly as I believe the shift to Entity-driven results will be gradual. Most users have now been "keyword search" educated and it will take some time to unlearn. SEOs, however, should start shifting tracks now. Keyword research has become obsolete – we need to look for Entities, Properties and Attributes.
Read more :
http://justinbriggs.org/entity-search-results-the-on-going-evolution-of-search
http://nlp.stanford.edu/software/CRF-NER.shtml
http://www.seobythesea.com/2012/06/search-engines-and-entities/
http://searchengineland.com/killer-seo-string-entity-optimization-171094