I was considering 'The AI force awakens" for the title of this post, but it felt more adequate to have Frederick play the role of Luke, the carrier of hope in a desparate world. His book adresses the arrival of Artificial Intelligence and Machine-Learning solutions in our industry in a very pedagogical and positive way. This is good as there may be a feeling of paranoia in the paid search industry due to the accelerated intake of AI – and a lot of it is due to uncertainty (and possibly some lacking communication) about what the role of these new technologies will be. He calls it PPC Angst.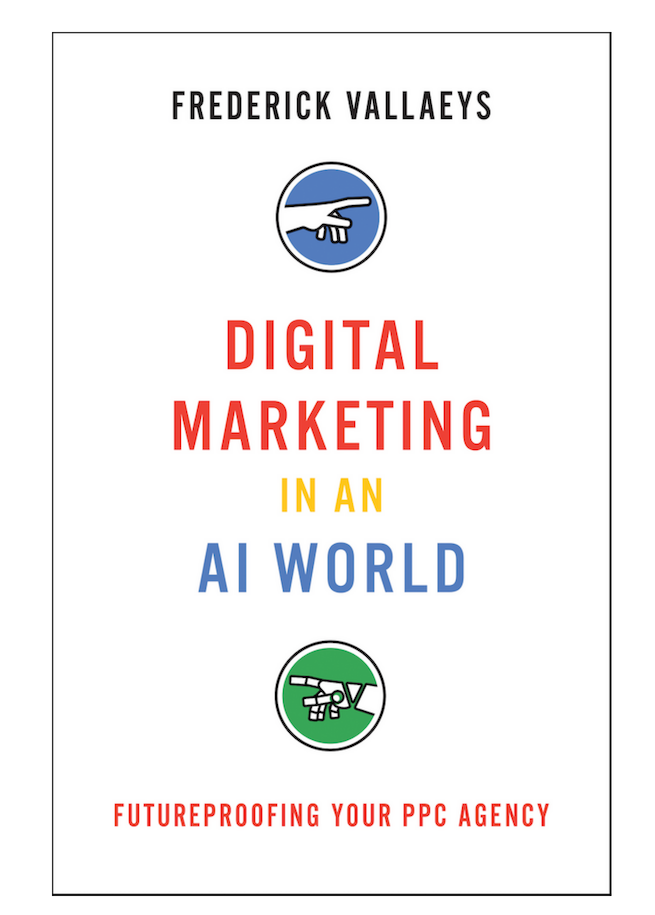 Frederick Vallaeys, author of this new book named: "Digital Marketing in an AI World: Futureproofing Your PPC Agency" paints a very detailed picture of how machine learning has emerged in Google Ads over time. He was involved in the early days of Adwords when Quality Score, the first machine-learning activity for ads, was first launched. Later, machine learning was used for early automated bidding solutions and for applying "broad match" to keywords and thus expanding the reach of an ad using fewer precise keywords.
Reading this part, it dawned on me how the work of PPC specialists is actually what the machine is feeding on. The more the digital marketers uses the tools, the better they get. "They" was referring to the machines. 
Back to the book, where Eric Schmidt has just entered the room at a Friday meeting in Google and has shared his vision for Google Ads in the future (today, as this was a few years back):
"a business should be able to come to Google, tell us their goals, write us a blank check, and then the system would just hand the rest"
This is an interesting direction to consider – Frederick calls it the "AI-first" direction – as that is clearly where Google are headed with the help of Moore's law which is increasing computing power exponentially. In detail, this vision removes any handling of campaigns, of ad texts, of keywords, of targeting or of bidding.
He then goes on to explain how machine-learning models work. They learn on the data you input in order to build a predicted result. It is really great to get a look behind the scenes. The vision Frederick has on AI is that it will help digital marketers provide better results and can be a plug-and-play for anyone simply looking for "average results". If you want more, you need to optimize the human-machine equation for maximum output.
Where does this take us in the future?
Parts II and III of the book go through the impact on agencies and people who work in PPC/SEA/SEM/paid search and maybe the wider digital marketing, even. There is a need for roles he calls Doctors, Pilots and Teachers. Doctors to diagnose the patient, Teachers to provide the right data to the AI and Pilots to steer campaigns in the right direction. Without having been into the details of these parts of the book, the wealth of insight it provides makes it a must for any digital marketing agency, and anyone working in this industry.
I interviewed Frederick for the Search Trends report while he was writing the book and his insights were a valuable contribution to it. He is practically giving his book away (the Kindle version) this week as you can get it for 1 dollar until Friday. I got it and so should you!
Available on Amazon: Digital Marketing in an AI World: Futureproofing Your PPC Agency