The Top 10 Amazon Markets
The biggest and most important Amazon market is without a doubt the US market. It weighs 68% of revenues and grew by 36% in 2020. It will be a long time before any other market catches up. If ever! The three following markets, Germany, United Kingdom and Japan add up to only 20% of revenues. And the remaining 15 active markets 12%. Amazon is top-heavy.
The top four markets are directly accounted for in quarterly earnings report. The following five markets, Canada, France, India, Italy and Spain all had more than 150.000 sellers in their local Amazon marketplace according to this overview of third party sellers by country from Statista, but we haven't found any indication of which is bigger than the other. And for the tenth position, we can also guess which of Australia, UAE, Mexico or Brazil is the bigger markets.
Managing multiple marketplaces on Amazon
Navigating the various marketplaces can be complex on Amazon. And even more complex for ecommerce outside of Amazon. As the formats and functionalities of market places are essentially the same from one Amazon country to the next, there are a couple of practical solutions in place. In North America, sellers can set up a unified account to cover US, Canada and Mexico. And in Europe, a unified account spans Germany, the United Kingdom, France, Italy, Spain, and the Netherlands. We expect Poland and Sweden to be added too. If you are looking to expand internationally, the Amazon's Global Selling guide is your goto destination.
Amazon's international growth strategy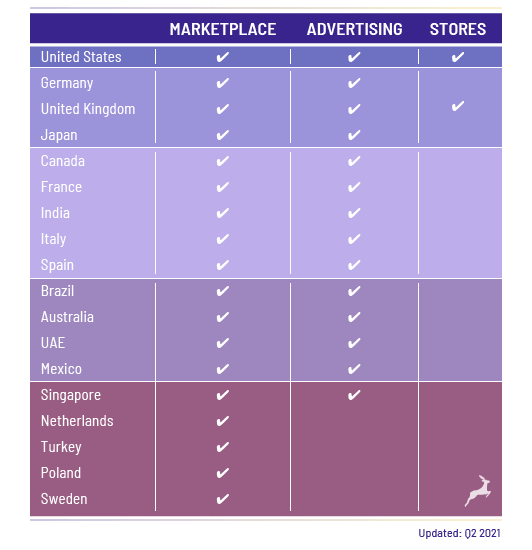 Amazon appears to have a distinct synergy-driven approach to internationalisation where new markets piggy back on existing ones, and where additional features are rolled out progressively. It is also using existing regional strongholds to build neighbouring markets, as proximity is so important to ensure high quality fulfillment. Brazil may enable an expansion into Argentina in South America in the future, and Germany is a key piece in the puzzle for opening Poland.
There seems to be a fair amount of merchant copy and paste going on to get a marketplace up and running. Product listings are autotranslated and made available in a new marketplace to get it going. There must be both ample supply and demand for a market to function.
Once merchants start flocking to the marketplace, the advertising platform is then rolled out. And with the recent opening of the physical stores, Amazon Go in the UK, perhaps the physical stores branch will start trickling down the top market list in the future. Perhaps Germany, Japan, and regional strongholds such as India and Brazil will be next?
Let's look at some of the ways Amazon markets are growing and how the international expansion strategy seems to be organized below.
Amazon Advertising
Advertising is one of the first powerpack added after a marketplace opens. There are four types of Amazon Advertising, three of which are intimately tied together with the marketplace:
Amazon Sponsored Products (which we like to refer to as Amazon paid search due to its similarity with Google Ads)
Amazon Sponsored Brands
Amazon Sponsored Display
These three are used by merchants to fight competition on the marketplace and boost their sales. As described in our Amazon Marketing Report, these solutions form an integral part of an Amazon marketing system.
Netherlands, Poland and Sweden are recently opened market places and the advertising branch has not yet been launched. Turkey has been around longer but it is characterized by a small Amazon market share.
The fourth advertising type is the Amazon DSP, the demand side platform allowing advertisers to advertise inside and outside the Amazon platform and a CPM (cost per thousand impressions) model. Amazon DSP could in principle be launched independently from the other ad types, but in practice it seems to tag along with the other types or shortly after.
Amazon Prime
We have a hunch that the roll-out of Amazon's loyalty program, Prime, follows approximately the same pattern. In Europe, Prime was launched first in the UK in 2007, in France in 2008, Italy in 2010 and Spain in 2011. The trickle down pattern is probably similar across other markets.
Physical shops
One of the most recent developments is the launch of physical stores in the UK market. Amazon grocery sales are offered in the technologically advanced Amazon Go format: the cashierless stores. One could imagine Japan, UAE or Brazil being next, so the branch can get a foothold in more continents and then roll out from there.
What will be the next Amazon market to open?
There was a lot of chatter and rumours before the Polish and Swedish launches. We will be sure to update any rumours we hear on this page. Heard anything we should be aware of? Tweet me or DM me so we can update this overview. The same goes for any data helping us determine the exact order of the top 10 Amazon markets.
Worldwide domination is still far away
Amazon is experiencing amazing growth, its ad offering is penetrating the triopoly of digital advertising consisting of Google, Facebook and Amazon Ads. Physical stores are breaking down the barriers between online and offline retail. But when we look into the details of the domination, Amazon is very top heavy and has a long way to go before it reaches the same level of market power in worldwide markets. On the other hand, the progressive expansion is constantly reinforcing existing strongholds and markets. It may take a while, but the machine seems unstoppable.
If you are aiming to build a more full understanding of Amazon marketing, you find a complete coverage in Innovell's "Amazon Marketing Report".