The Reykjavik Internet Marketing Conference takes place on 28 March and has a great line-up of speakers from Big brands like Heineken, Geox, Nokia, Dell, Lenovo and more. I have been invited to the Wrap-up session at 16.00 about Big Brands online from the marketers perspective.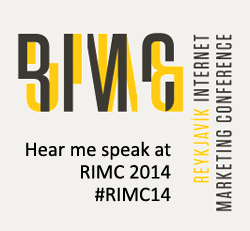 Details here: Reykjavik Internet Marketing Conference 2014
This will be my first time to Iceland and I am really looking forward to this. I will combine a great looking RIMC conference with the European Search Awards and additionally I will take an extra day to discover this amazing country I have been wanting to visit for many years.
Iceland, here we come!