The triopoly of advertising, Google, Facebook and Amazon account for approximately 76% of all digital advertising. They all grew significantly in 2020 whereas the global digital advertising spend hardly grew overall according to Statista projections.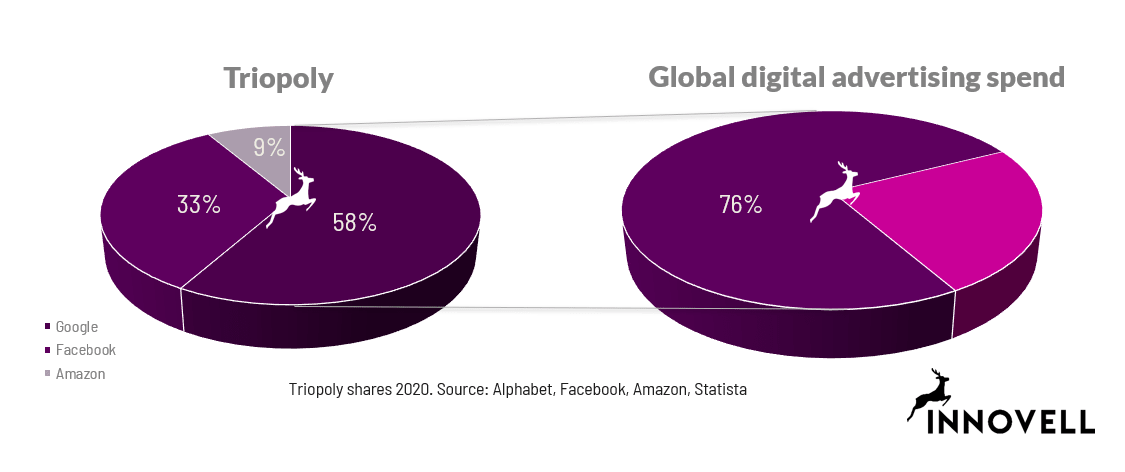 Growth of the triopoly
After every end of quarter, we feast on quarterly reports showing just how massive growth these three giants are consistently creating. The illustration below show the quarterly evolution of each of the three players' advertising revenues. They peak in Q4 as advertising traces the end of year ecommerce peak. Therein lies the explanation for the success of these platforms – they drive sales. And they are able to demonstrate it in their reporting.
The only exception to the Q4 peak happened during the pandemic in 2020 where we had a "christmas in May" effect where consumers were in lockdown, spent hours behind their screens and started on accelerated their online buying.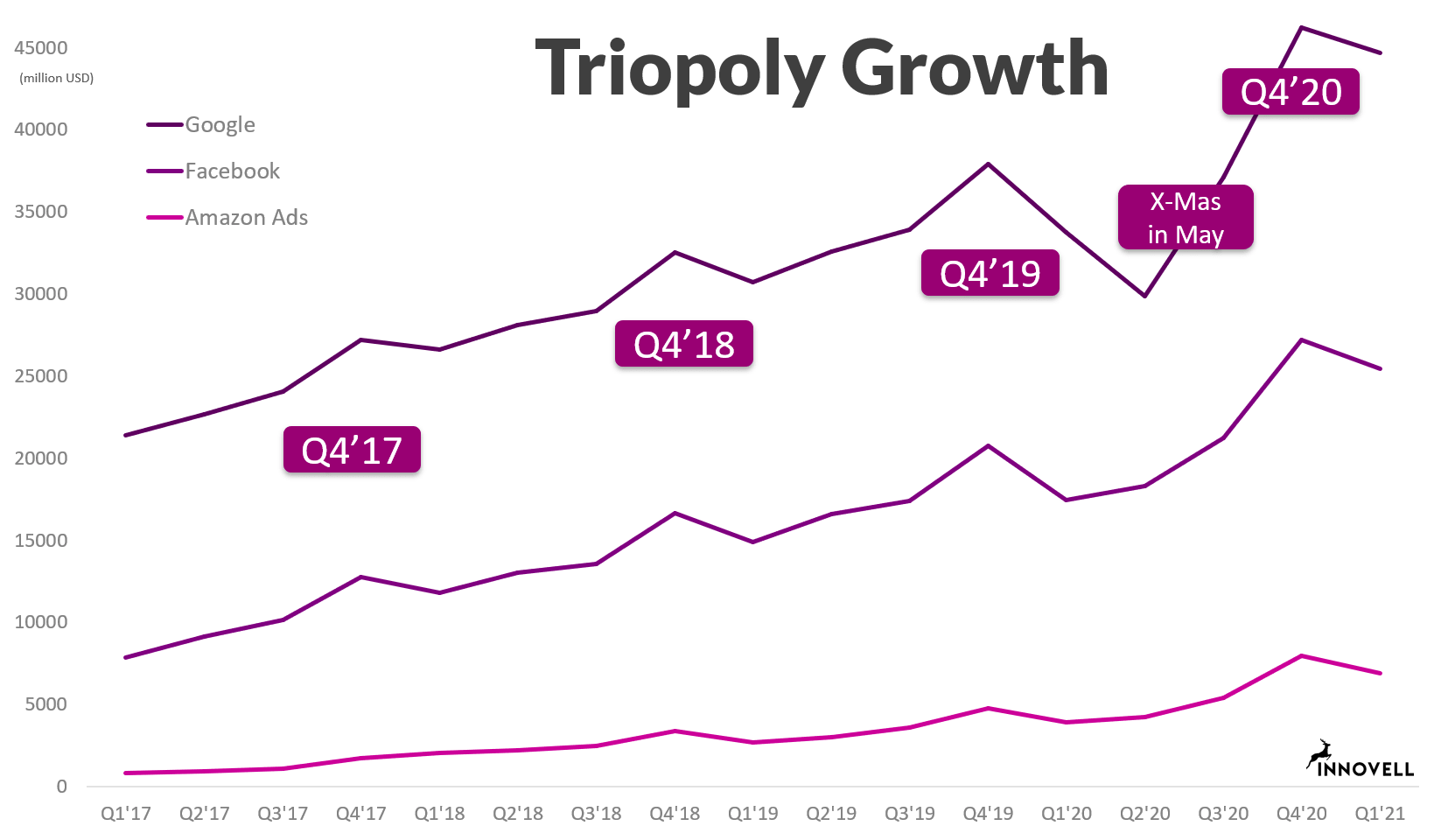 Amazon Advertising grows faster
Amazon Advertising now represents 9% of the Triopoly and catches up a little more on its' competitors for every year that passes. From a mere 3% of the triopoly in 2017 to 6% in 2018 and 2019 and now at 9%. Advertising spend picks up in Q4 as it traces the end of year ecommerce peak.
The largest share of Amazon Advertising is shown inside the marketplace itself. When ecommerce peaks, there is more ad inventory, and when ecommerce sales peak, so do advertising investments. Amazon Advertising grew at a staggering 77% in Q1 2021 compared to 2020. The ecommerce platform itself grew at around 40% and the advertising solution has shown its capability for generating a rate of growth well above the platform growth. This is easy to visualize when you look at the correlation between ecommerce and ads sales for Amazon.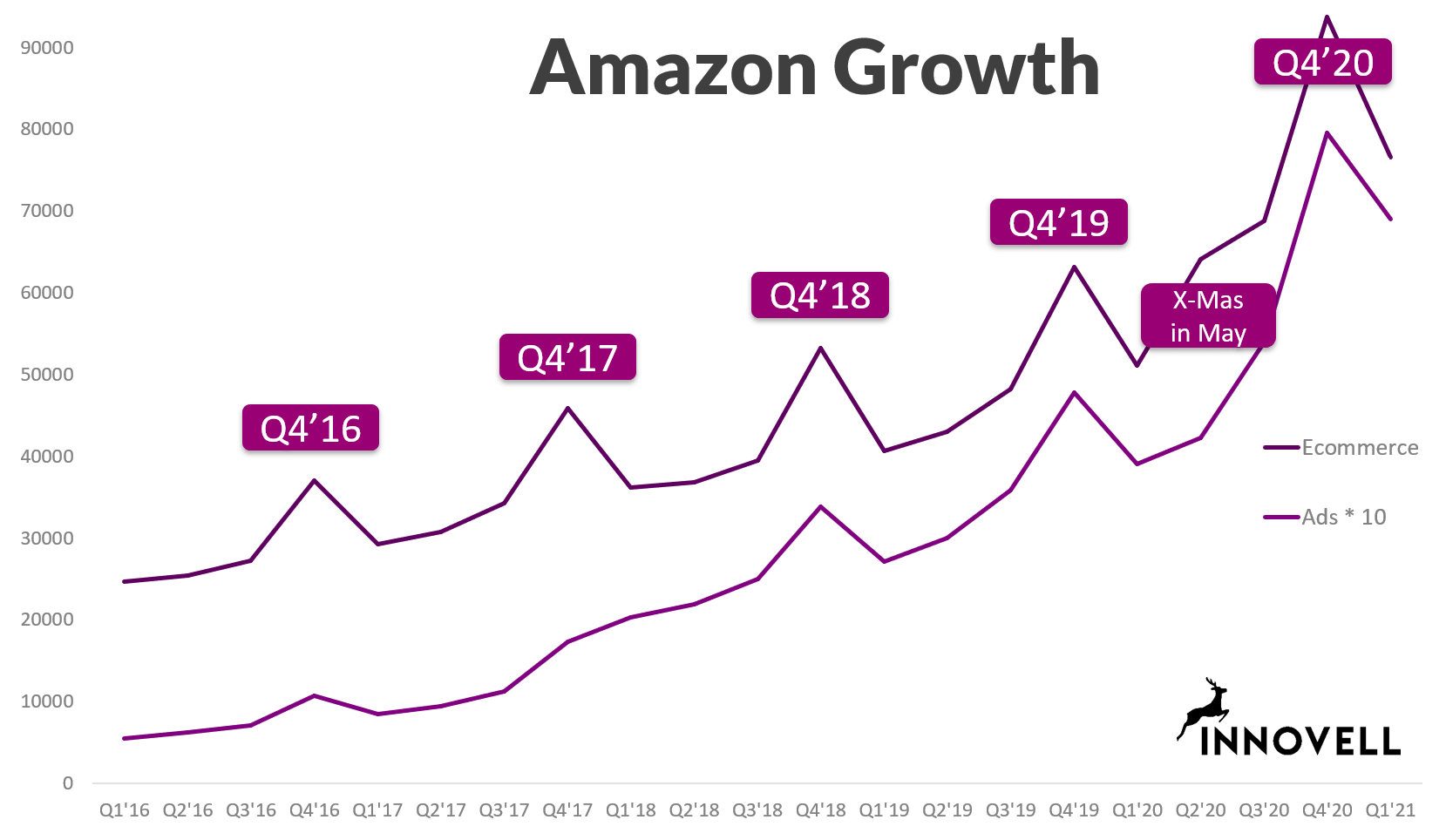 Google has restored its health
In Q2 of 2020, Google Ads experienced its only ever negative growth in revenue for a quarter compared to the previous. However, the 32% growth YoY of Q1 of 2021 erases that dip. This growth level is the highest Google has seen since 2017.
Facebook advertising hits a 46% growth YoY in 2021, also much higher in recent years. This level of growth hasn't been seen in Facebook since Q1 of 2018.
Digital maturity, hope and economic growth
The year of the pandemic was 2020. The world came to a halt. We stopped moving our feet and accelerated our online usage. For better and for worse. During that year, businesses accelerated their digital transformation like never before. Online shopping boomed like never before – it X-mas in May as we were bored, or replacing social interaction with online shopping. I think I ate disproportionately more chocolate than I used too out of self-pity. Or maybe that was when I started exploring exotic cocktails before dinner.
Now that we are expecting the end of the pandemic, businesses are investing, consumers have higer hopes, and we are expecting economic growth to take off and maybe recapture some of the lost growth of 2020. All of these factors are beneficial from an advertising point of view. If this trend confirms itself, we may be in for continued above-normal* advertising growth way further into 2021.
"Above-normal". What is normal in 2021, anyhow?