State of the Triopoly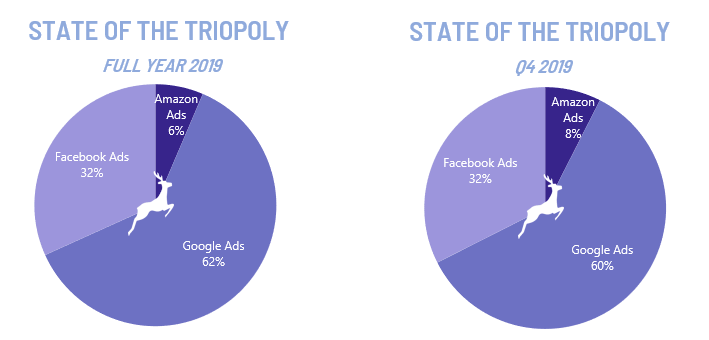 Google and Facebook had become so powerful in the digital advertising market that analysts called them the duopoly. But last year the strong entry of Amazon into the digital advertising space made them revise that name into the Triopoly. Those three players together represent some 66% of global advertising. This is calculated on the basis of projected numbers for global digital advertising and an estimate of Google's revenues which will only be published in a couple of days.
Global digital advertising statistics can be found here: https://www.statista.com/outlook/216/100/digital-advertising/worldwide#market-revenue
Google represent the largest proportion with 60% of the triopoly in Q4'19 and Facebook represent 32%. Amazon Ads only represent 7,5% in Q4 2019. However, this is up from 5,6% for the full year 2018 and 3,3% for 2017.
With the recent release of Amazon's Q4'19 results, it has become apparent that Amazon Ads is the strongest growing segment of Amazon's revenue. Read more about this in this recent article on Amazon's Growth Riders
Facebook also recently released their Q4 and full year 2019 earnings report and comparing with those, it also becomes clear that Amazon Ads is out-growing Facebook. We are still waiting for Google's results to come out but looking at the Q1-Q3 growth, it seems likely that they are lagging even further behind.
Amazon playing catch-up
So how is Amazon Ads playing the game of catch-up in comparison with the other triopolists? We plotted the quarterly revenue of the triopolists against each other and calculated the share of Amazon Ads vs Triopoly, the share of Amazon Ads of Google Ads and the share of Amazon Ads out of Facebook Ads as you can see below: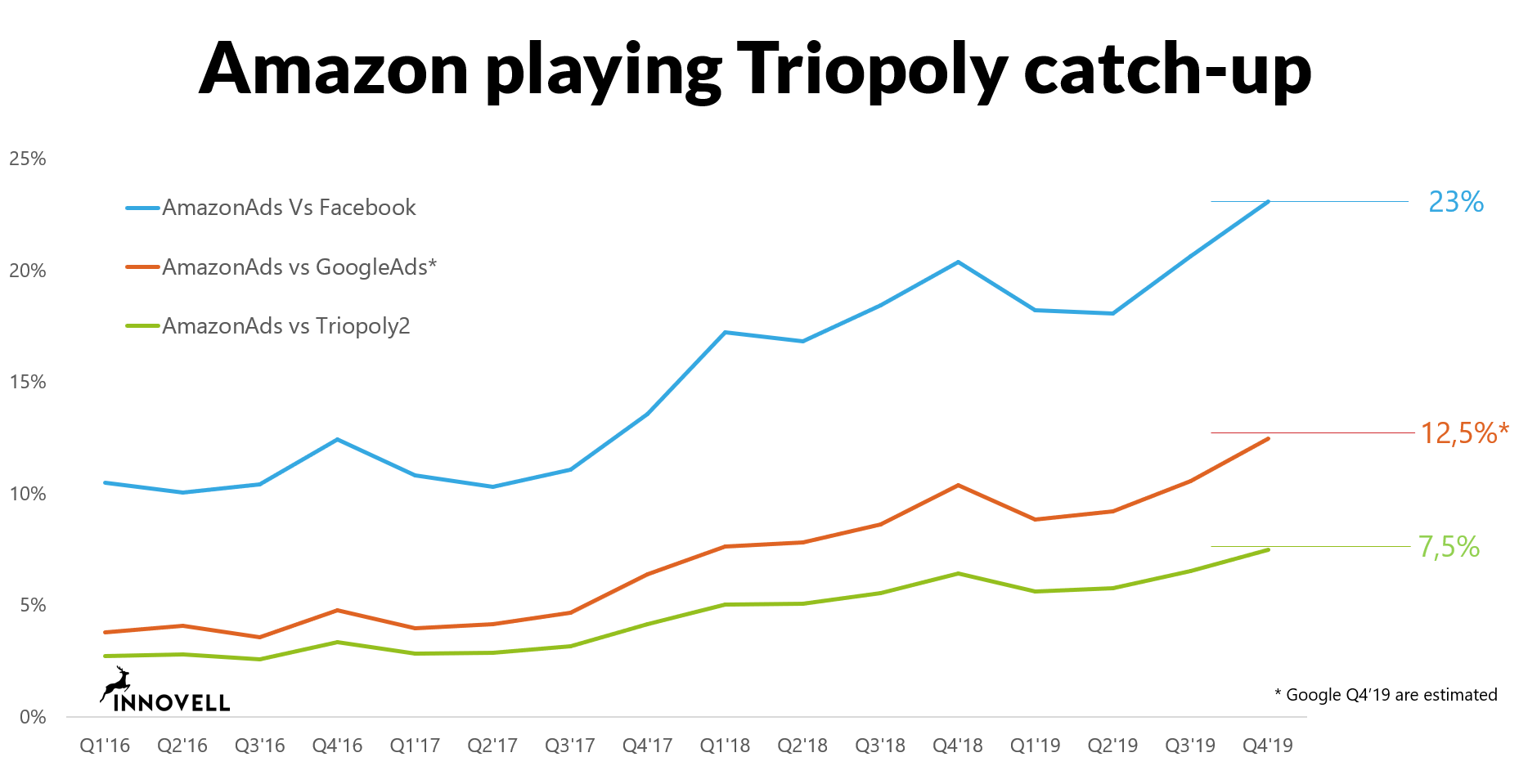 Amazon Ads revenue was 23% of Facebook Ads revenue in Q4 of 2019. Growth in Q4 was 41% compared to Q4'18 where Facebook Ads "only" grew by 27% and Google Ads are estimated at around 17%.
With this game of catch-up, Amazon Ads is likely to represent 12,5% of Google Ads in Q4'19. Not something to ignore any longer and a justified place with the two other digital ad giants of this world.