Over the past few years, we had the feeling that Google shopping was eating budget from Google Adwords. The evolution of the offering was very fast and ads with product images simply beat text ads every single time. We didn't, however, have any statistics on how important that shift was.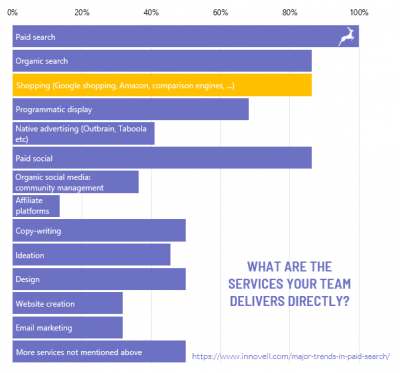 In our survey for the "Major Trends in Paid Search" report, we  asked a cluster of leading teams what the mix of their service offering was and were not really surprised to see « shopping » to come out top together with SEO and Paid Social.
But there was an additional parallel trend which has only become visible quite recently. The new kid on the Ad block, Amazon Ads.
In a recent analysis by eMarketer of the US ad market, Amazon Ads was projected to represent 4.61 billion in 2018 after having more than doubled since 2017. This is more than 10% of the projected Google Ads spend. This proportion of Amazon Ads to Google Ads is projected to go to 20% in 2020 for the US market. Read more in this article from eMarketer: https://www.emarketer.com/content/amazon-is-now-the-no-3-digital-ad-platform-in-the-us
[UPDATE 2019] The predictions were underestimated and the projection was increased from 4.61 billion to over 7 billion. The exact figure is not know from official accounts from Amazon but emarketers 2019 update put Amazon Ads at 18% of Google Ads already in 2018 and predict it to rise to 24% by end 2019!
https://www.emarketer.com/content/us-digital-ad-spending-will-surpass-traditional-in-2019
This is similar to the progression we originally saw with paid search eating into other advertising budgets and even to digital advertising eating into overall ad budgets. We are convinced that this is primarily down to metrics. There is nothing like proven ROI to absorb budget and the closer you are positioned to the final sale, the more convincing your ad metrics will be.
But we believe there is an additional explanation, namely the user experience. With shopping search you get colourful pictures and an increasingly smooth buying experience and in that activity Amazon has become a leader.
Leading teams have started to adopt Amazon Ads
Whereas over 80% of the teams we surveyed manage shopping engine services, it looks like it is mainly via Google Shopping or independent comparison shopping engines. Only 32% of our teams were working with Amazon Ads but we expect this to pick up quickly, especially if Amazon start opening up to paid search agencies more actively.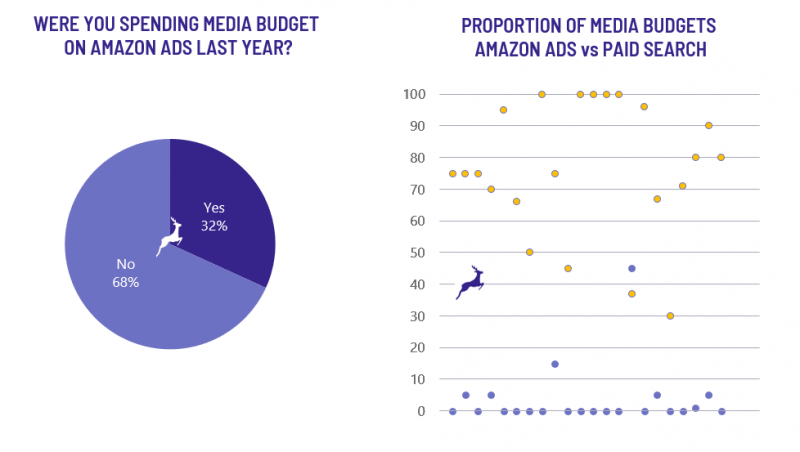 The teams who do, however, engage with Amazon Ads are making up for the low engagement level; in 2017 they dedicated an average of almost 12% of media spend to Amazon Ads being ahead of the market average, bringing the overall average to almost 4% on the entire sample.
Search and shopping strategies
This has given birth to a new breed of strategy, one in which the focus is entirely on optimizing the bottom of the funnel across search, Google Shopping and Amazon Ads. This is of course particularly well suited to retailers and merchants with a large product portfolio.
The more advanced search and shopping strategies will segment the products in order to identify profitability per product range and include stock level considerations. Some approaches will work on varying the product price instead of the advertising bid, as cheaper products get an algorithmic boost. Other strategies will aim to isolate top performers in individual groups and target them to the highest-performing keyword.
In Amazon Ads, where the algorithm is different, the most advanced strategies have taken advantage of the placement of ads in the right categories.
The area of search and shopping strategies is very dynamic and we expect to see more innovation moving forward: integrated approaches for Google Shopping and Amazon Ads, innovative approaches to balancing search campaign budgets on the basis of the shopping campaign performance, use of machine learning to optimize the product feeds through the CSS.
This post is based on an extract from the #searchtrendsreport found on https://www.innovell.com/major-trends-in-paid-search/