At the end of a call for tender there is always this uncomfortable moment when the advertiser gives feedback to the agencies who were not selected. And isn't it funny how the agencies that lost were always too expensive whereas the winner simply went beyond the brief and made a stellar impression? It is rarely a perfect market and pitching processes are never a straight line and there remains always a certain mystery among agencies about why they were chosen or why they were not.
In our research for the search trends report, we asked 2 questions to a cluster of leading agencies about what criteria they are being selected on. The advertiser may have had a clear perspective based on precise weighted scores for a long list of factors for each participant in a pitch but the participating agencies always make their own conclusion post-selection on what made them win or not. It is those criteria that we have looked on in this research.
It is important to stress that these answers will not be representative of paid search agencies overall, as our research is using a top-down approach looking at practices in agencies that were shortlisted in Search Awards across the globe. It is also the view of the paid search team, not the view of the advertiser.
These agencies believe they were chosen on the following top 3 criteria: Strong reputation, Innovation & pioneering, Proven positive ROI
Obviously, these were not the only criteria. A number of participants considered "continuously improving campaign ROI" as a criteria. This is almost worrying, considering the state of the paid search industry where CPCs are rising, competition fierce and most campaigns reaching a certain level of maturity. It seems like a dangerous promise to be selected on – that of continuously improving ROI – but nevertheless, it is a promise, leading agencies insist on.
Next on the list was a very basic criteria – the fit between the client and the services offered. It may often be taken for granted but it has great importance. If an advertiser is looking for a specialist agency to work on paid search only, then a PPC agency with strong channel integration may not provide the right fit. And when an advertiser has an extensive offline marketing operation, using a performance-oriented paid-search agency is not the right solution. Finding the right fit is important for long-term success.
We were a bit frustrated to see the "repeatable successful process" lower on the list than "continuously improving ROI" but we were happy to see that the "quality/cost equation" was not so important – to succeed in paid search, it is important to focus on results rather than costs, hence the prominent ROI criteria
We got some additional input in the "Other" section where respondents indicated criteria like: "being thought leaders", having a "strong team" and "high quality account management". This seem to confirm how important the "chemistry" between an advertiser and its agency has become. The importance of the people doing the work.
But what criteria should an agency ideally be chosen on?
As mentioned in the introduction we actually asked 2 questions. We wanted to understand whether we could see a gap between on one hand what criteria paid search teams think they were chosen on and what they would ideally want to be selected on. We plotted the 2 answers on the illustration below.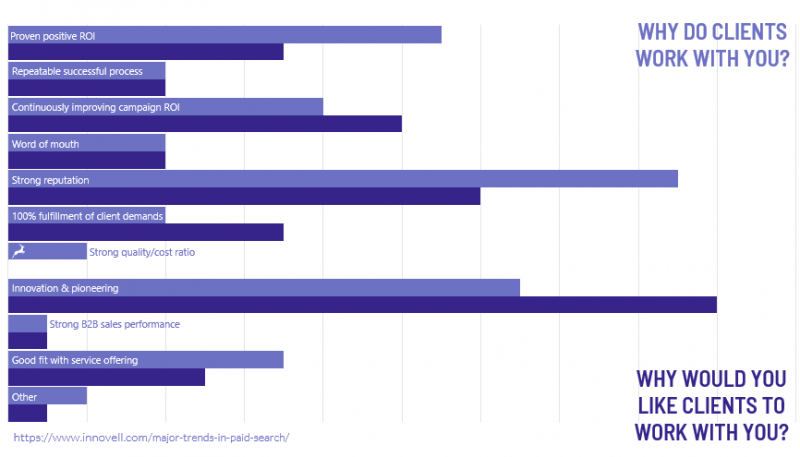 So, when agency leaders dream at night, they would like for clients to choose them because they are pioneers (see "Innovation and pioneering" in the illustration) and not because of their reputation (see "Strong reputation" in the illustration). They would like clients to appreciate that they are 100% dedicated to fulfilling clients demand rather than looking at the cost.
Surprisingly, they would also like for clients to choose them for continuously improving campaign ROI, not simply on proof of positive ROI in the past.
That is pretty cocky, isn't it?
This post is based on an extract from the #searchtrendsreport found on https://www.innovell.com/major-trends-in-paid-search/