When we interrogated some of the industry's top experts about the main challenges in Paid Search, many of them mentioned the "keeping up" challenge.
The shear amount of functionalities available to the digital marketer has exploded in recent years: new ad formats, more devices, audience targeting and automation & AI. Where the paid search equation used to be fairly simple with ads, keywords and landing pages as the three essential components of the equation, these new additions have significantly complexified the management of paid search. The changes have been faster in more recent years and Paid Search teams clearly need to organize themselves for this constant change, or as David Szetela of FMB puts it:
"Google adds and changes features in its interface on a daily basis. It takes experience and good intuition to figure out how to adapt to these changes…"
David Szetela
In our research for the Major Trends in Paid Search report, we presented the top teams that were part of our sample with a number of ways to address this challenge.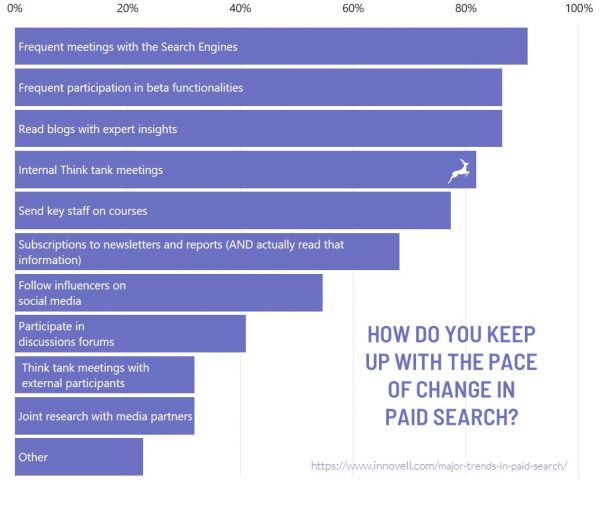 Working closely with the search engines
The top activities that more or less everybody engages in are undertaken in collaboration with the search engines: having frequent meetings with them and regularly participating in beta functionalities. Beta functionalities are new functionalities that are not open to the general public and that the search engines are in the process of testing and monitoring closely before launching them to all advertisers. The fact that almost all the top-paid search teams are engaged in these demonstrates their strong determination to progress and their fast adoption of changes and improvements. A smaller proportion (32%) take this even further and carry out joint research with the search engines.
Expert insights from blogs, newsletters, social media and more
More traditionally, around 85% of respondents read blogs containing expert insights such as Search Engine Land, Search Engine Journal, PPC Hero or State of Digital. They also subscribe to newsletters and reports (68%). Lower proportions of respondents follow influencers on social media (55%) and participate in discussion forums (41%).
Organizing think tanks
Just over 80% run internal think-tank meetings, and 32% run think-tank meetings with external participants. These are meetings designed to figure out where to take campaign strategies and how to move the business forward. These meetings can be informal, but in many cases they will use some kind of circulating responsibility where the themes will be defined up front and one person will be made responsible for presenting his or her experiences from a campaign, a test or maybe a beta functionality that has been running. In the case of external participation, this can initially take the form of a small conference. Some agencies have taken this idea further and organize their own public conferences.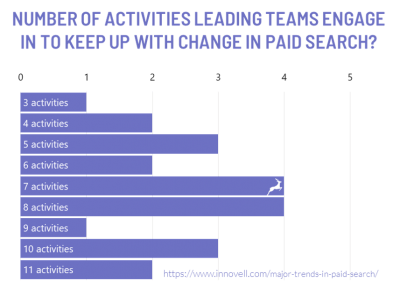 On an average the sample indicated engaging with 7 different activities in order to to stay up to level and are permanently engaging in knowledge acquisition. We found that some of the most advanced teams go to the lenght of organizing their own conference or setting up a their own R&D laboratory to serve their organisation, approaches not often used in services and consulting.
This post is based on an extract from the #searchtrendsreport found on https://www.innovell.com/major-trends-in-paid-search/