From a statistical point of view, the timing of COVID19 couldn't have been better. Just in the middle of Q2, so all the economic damage it caused when it first hit our economies, can be clearly distinguished. The triopoly of digital advertising, as composed of Google, Facebook and Amazon were of course affected as advertising investment is very quick to be impacted by uncertainty.
In our recent report "Digital Marketing in a VUCA World" we looked at how digital marketing is affected by COVID19, the rise of AI and the end of cookies. The most abrupt changes are of course due to the lockdown and drop in advertising investment. Now, in Q3 we can see how each of the platforms recovered.
Amazon Ads grows 51%, Facebook Ads 22% and Google Ads 9% in Q3 '20
Every quarter, the three members of the triopoly of digital advertising publish their revenue figures and it used to be almost predictable. An average growth every of around 15% year on year and a peak in Q4. Amazon Ads playing catch-up by steadily eating triopoly share every quarter but still representing only ¼ of Facebook Ads and 1/7 of Google Ads.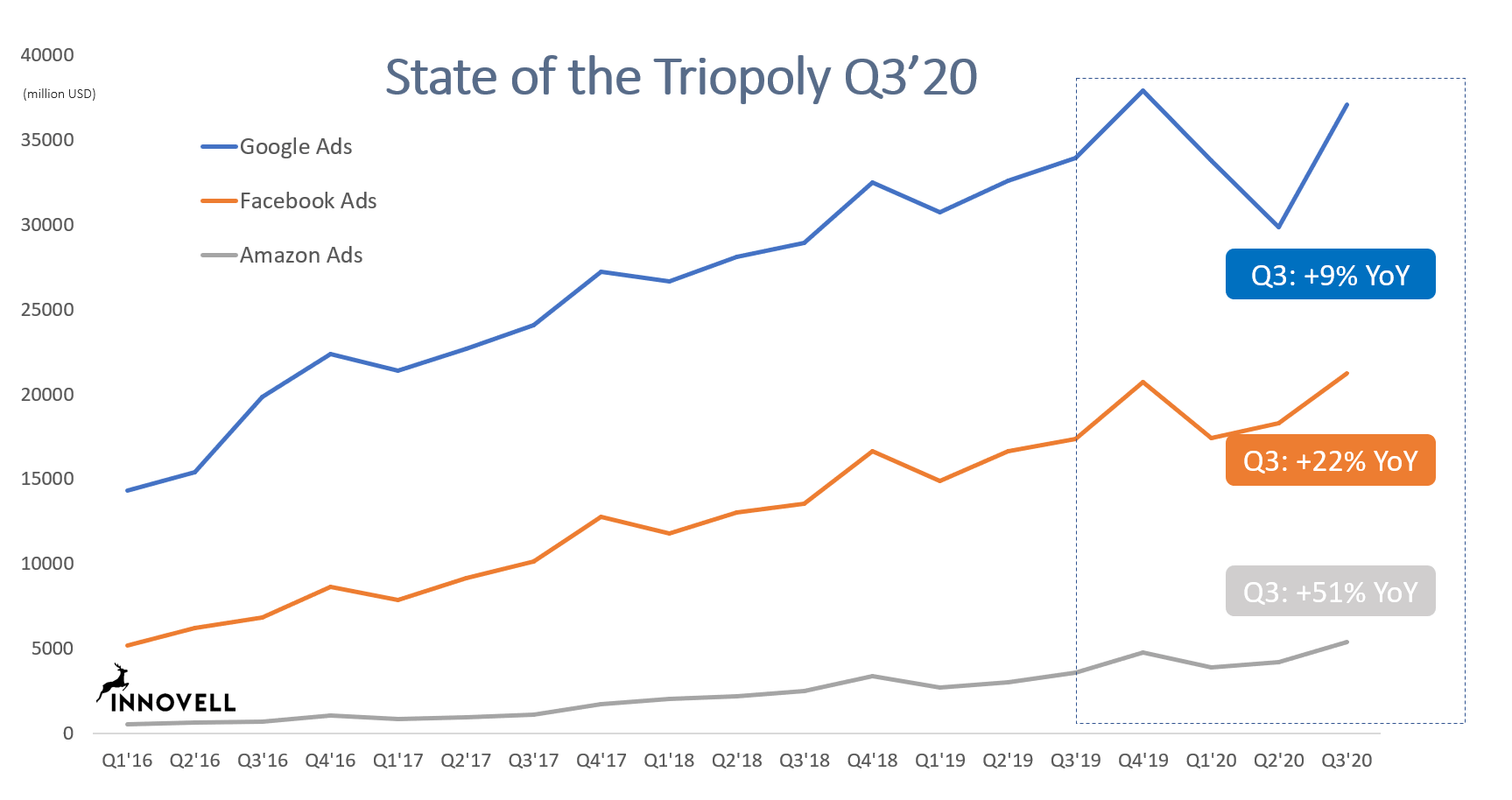 In Q2'20 Google Ads saw negative growth YoY
With COVID19, things were shuffled around a bit. Google Ads saw the first ever quarter of negative growth yoy in Q2 (-8%) whereas Amazon Ads and Facebook Ads resisted. But the recovery was so much stronger for Google Ads in Q3 that the lost quarter of COVID19 may be soon forgotten. Facebook didn't seem to be impacted in Q2, and experiences higher growth than recently in Q3 (22%).
In Amazon, E-commerce exploded in Q2 and ads picked up in Q3
Amazon Ads grows with over 50% in Q3, a level of growth the platform hasn't seen since 2018. It is probably riding on a delayed impact of the massive Q2 growth in e-commerce on the platform. Amazon Ads spend is strongly tied to the the e-commerce activity. On Amazon the media is the marketplace. When you plot e-commerce revenue against ad revenue over time, the correlation becomes very clear – all but in Q2 and Q3 of 2020 due to COVID19.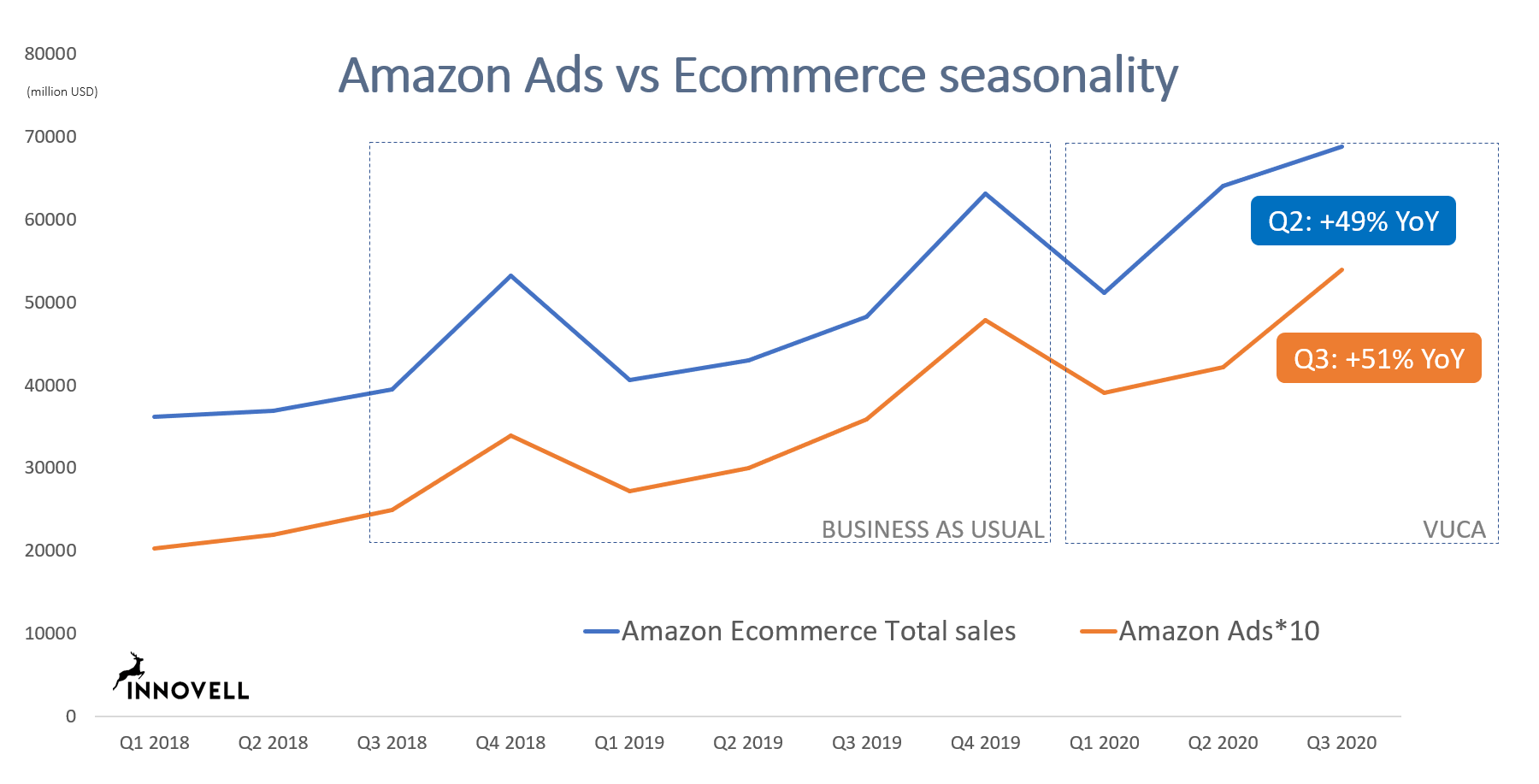 Amazon experienced massive growth of e-commerce in Q2 at 49% yoy compared to recent growth around the 20% mark, Q2 was a bit like christmas in May. However, advertising was affected by uncertainty and only picked up in Q3 with over 50% growth where recent quarters showed around 40% growth year on year.
Q4 outlook, anyone?
With a massive Q2 for e-commerce, recession, new lockdowns and an uncertain holiday season, Q4 shouldn't be expected to be business as usua, should it?. Amazon, of course, pushed its Prime Day private sales event to Q4 and should be expected to benefit from a further surge in e-commerce. Advertising spend usually picks up strongly in Q4 too, so we have two contrary forces at work: high media pressure on one hand and uncertainty on the other. We are likely to see the traditional Q4 spike, but it will probably be composed of a different advertiser mix than we are used to, and there could be some platform shift also. One thing is certain. Q4 in digital advertising will be higher than ever before for the triopoly.